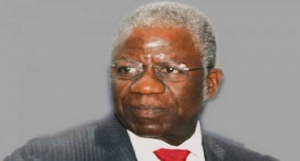 The federal government has filed fresh charges against the former Head of Service of the Federation, Mr Steve Oronsaye and five others before a Federal High Court sitting in Abuja on Tuesday.
The Economic and Financial Crimes Commission (EFCC) had earlier filed a 24-count charge against Oronsaye and two other defendants over alleged fraud and money laundering offences involving 1.2 trillion Naira.
But at the resumption of hearing, the Prosecuting Counsel, Mr Adebisi Adeniyi, informed the trial judge, Justice Gabriel Kolawole, that he had filed an amended charge and sought for an adjournment to serve the charge on three new co-defendants who had been included in the fresh charge.
With the filing of the amended charge, the initial 24 counts had jumped to 35 counts, while the number of defendants increased from three to six.
Justice Kolawole, however, adjourned the matter to  November 25 to enable the prosecution to serve the fresh charges on the new co-defendants for them to take their pleas.
The amended charge dated November 2, 2015,  has the following defendants: Stephen Oronsaye, Osarenkhoe Afe, Global Services Limited, Cluster Logistics Limited , Kangolo Dynamic Cleaning Limited and Drew Investment & Construction Company Limited.