Buhari To Ministers: You Must Be Agents Of Change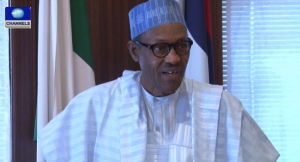 A retreat for ministers-designate has begun at the Presidential Villa, in Abuja, Nigeria's Federal Capital Territory.
President Buhari asked the ministers-designate to "count themselves privileged to have been chosen among millions of their compatriots to be the drivers of the change that the ruling party promised Nigerians".
The President said that the government officials' determination to succeed must be equal to the nation's challenges.
While recalling that his election was hinged on his promise to tackle corruption, insecurity and improve the economy, he said that the ministers-designate must be agents of the change promised by his administration.
According to Nigeria's number one citizen, the diversification of the nation's economy would be the focus of his government.
The retreat is being attended by President Muhammadu Buhari, Vice President Yemi Osinbajo, all ministers-designate and other presidential aides and top government officials.
The event is being organised by the office of the Secretary to the Government of the Federation, David Lawal, and it is holding at the Banquet Hall of the Presidential Villa.
Senate President, Bukola Saraki, had on Tuesday submitted the list of screened and confirmed ministers to President Muhammadu Buhari.
After receiving the document, President Buhari gave the indication that some of the new ministers would have to operate without portfolio.
This is hinged on the fact that the Federal Government, according to Buhari, could not afford to have an elaborate federal cabinet.
"The constitution certainly said there must be one member of the cabinet from all the states. The constitution did not say I must have 36 ministries.
"I will exploit that detail because of the economic imperative to have less ministers," he told the Senate President.