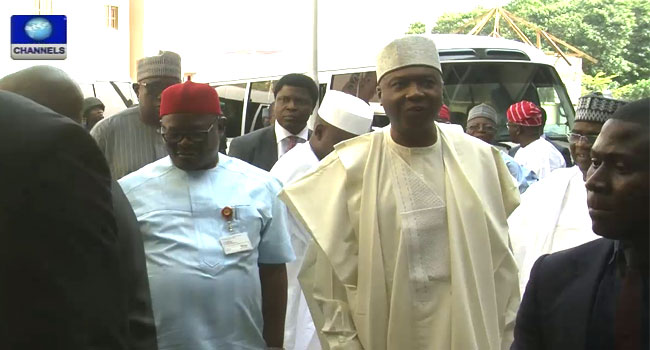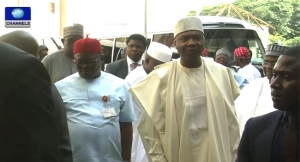 Lawyers to the Senate President have refiled a Fundamental Human Rights Application on behalf of Dr. Bukola Saraki at the Federal High Court in Abuja after a High Court in Lagos State struck out the case.
The Counsel to Dr. Saraki, Mr Ajibola Oluyede, said that the case was refiled on Friday.
The Senate President had sued the Attorney General of the Federation, the Economic and Financial Crimes Commission, ICPC, the Inspector General of Police and the Code of Conduct Bureau.
In the suit, Senator Saraki asked the court to declare that his arraignment and trial before the Code on Conduct Tribunal falls short of the African Charter on Human and Peoples Right and Section 36 of the Nigerian Constitution which guarantees his right to fair hearing and personal liberty.
He also asked the court to nullify the charges of false assets declaration pending against him.
The Senate President also wanted the court to restrain the respondents from inviting, arresting or prosecuting him on the basis of any allegation arising from his tenure as Governor of Kwara State from 2003 – 2011.
Earlier on Friday, the High Court said that the issues could  not be resolved in Lagos and struck out the suit for lack of jurisdiction.
Lawyers Withdraw From CCT Trial
On Thursday, all lawyers representing the Senate President on charges leveled against him by the Code of Conduct Bureau (CCB) withdrew from the case.
Their withdrawal followed the ruling of the Code of Conduct Tribunal to continue trial, a decision, which the lawyers described as "judicial rascality".
The Tribunal had based its ruling on the strength of Section 305 of the administration of Criminal Justice Act which says that 'a trial can be concluded and ruling reserved until all questions about the trial are answered'.
Dr. Saraki then asked for a month to reconstitute his defence but lawyer to the Federal Government kicked against it saying that it was another way for the Senate President to "get what he wants".
The Tribunal, however, ruled that it would give the Senate President one week to reconstitute his legal team.
The CCT has adjourned till November 19.
Supreme Court Appeal
The decision of the High Court in Lagos on Friday came three days after Dr Saraki filed an appeal against the judgment of the Court of Appeal, which on October 30 affirmed the jurisdiction of the Code of Conduct Tribunal to try him on 13 counts of false assets declaration.
Senator Saraki also filed an application for stay of proceedings urging the Supreme Court to halt the proceedings of the Code of conduct Tribunal to try him for the alleged offences pending when his appeal would be determined.