Pro-Biafra Protesters March In Awka Despite IG's Order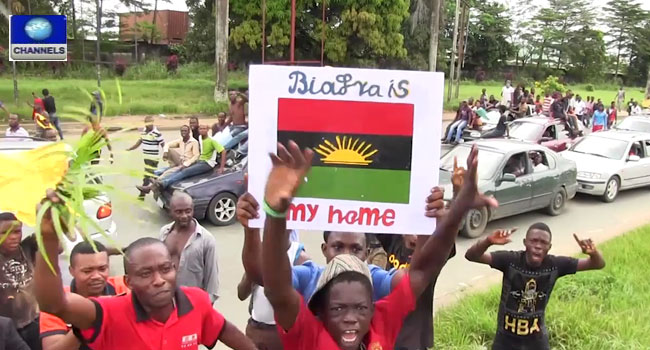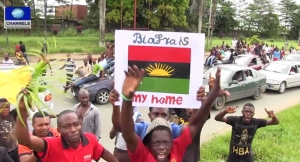 In spite of the warning by the Inspector General of Police, Solomon Arase against the planned one million-man march for Biafra, over 10, 000 members of the Indigenous People of Biafra (IPOB) on Saturday, November 7, 2015 stormed Awka, the Anambra State capital in continuation of their peaceful protest over the detention of their leader Nnamdi Kanu.
The crowd that trekked from Asaba in Delta State, got into Awka around 6PM and according to the Anambra State Police Public Relations Officer, Mr. Ali Okechukwu, the march has been peaceful.
Mr. Okechukwu said the police and every other security agency in the state are at alert to ensure the situation does not degenerate into crisis and disturb the peace of the state.
In a strongly-worded statement on Friday, the Inspector General of Police, Mr Solomon Arase, said that the protesters, from the south-eastern region, would be provoking the law if they do not stop such protests or call.
He particularly made reference to the planned 'one-million march' for the actualisation of Biafra, which he said was illegal and asked everyone not to participate.
"Information available to the Nigeria police indicates plans by the Indigenous People of Biafra (IPOB) to embark on ill-advised protests, using dangerous weapons across some south eastern states.
"For the avoidance of doubt, this is unlawful and no one should attempt to test the law," the police warned in the statement.
He reminded the youths that the law prohibiting the unlawful possession of firearms was still in force.
He also warned against any attempt to unleash mayhem on innocent and law-abiding Nigerians.
He said that anyone arrested in connection with the planned march would be appropriately dealt with.
Before the warning of the Inspector General of Police, hundreds of youths took to the street in Asaba, the capital of Delta State, blocking the major express way leading to the east.
At Summit Junction in Asaba, the group chanted war songs, calling for the restoration of Biafra and demanding the release of a certain Nnamdi Kalu who they claimed was in detention at the Department of State Security office.