Waste To Money: Experts Call For More Attention On Recycling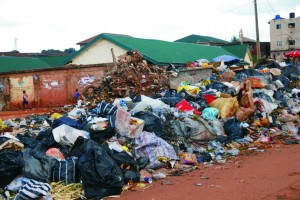 Assets management experts have advised the Nigerian government to enact laws for the enforcement of maintenance culture, with special attention on the recycling of waste products which pollute the nation's environment.
The experts told reporters on Sunday that aside from maintaining existing infrastructure, Nigeria's waste are assets waiting to the tapped, especially now that the economy is in need of a boost, with dwindling oil prices.
They pointed out that while waste management was particularly challenging for developing countries, Nigeria must begin to rethink waste as a resource and create awareness for Nigerians to key into the project.
In 1984, a military decree by President Muhammadu Buhari, then head of state, and his Deputy, Tunde Idiagbhon, instituted the War Against Indiscipline and Corruption.
One of the major enforcements of that programme which had a key target to instil social order and civic responsibilities in Nigerians was the control of litter and waste collection.
Thirty-one years after, experts in Assets and Waste Management, led by a consultant, Chidi Umeano, at a gathering organised to seek solution to Nigeria's waste management challenges, stressed the need for Nigeria to turn waste into a resource that would yield great economic revenue.
British Deputy High Commissioner to Nigeria, Simon Schercliff, told the gathering that managing waste was a very critical problem globally but one which every country must invest in to truly develop.
Another expert in resource management, Mr Waleed Montasser, also stressed that Nigeria did not need new policies. "All the nation needs is only enlightenment, legislation and enforcement," he said.
The experts want Nigerians to rethink waste as a resource and instead of throwing it away, recycle it and reuse to save money and create more resources for the future.
This they said must go hand in hand with the culture of maintenance of existing assets, as good infrastructure they pointed out attracts good investment which Nigeria really needs now.