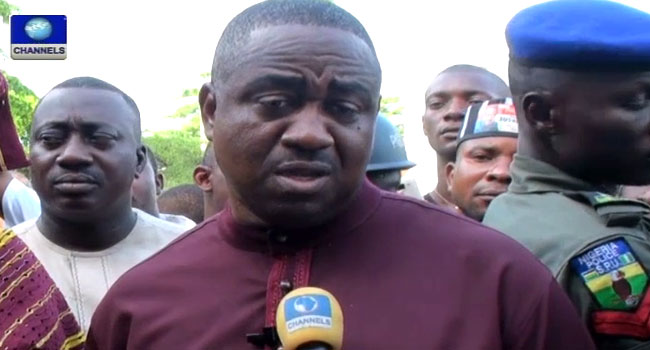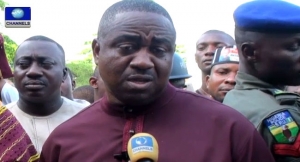 The arraignment of the former Benue State Governor, Mr Gabriel Suswam, by the Economic and Financial Crimes Commission (EFCC) for alleged money laundering and corruption charges has commenced at the Federal High Court in Abuja.
He was escorted into the court premises by officials of the anti-graft agency.
He is being arraigned before Justice A. R. Mohammed over a 9-count charge bordering on money laundering to the tune of 3.1 billion Naira.
Mr Suswam and his former Finance Commissioner, Mr Omodachi Okolobia, were alleged to have diverted the proceeds of the sale of shares owned by the Benue State Government and Benue Investment and Property Company Limited.
The offence is punishable under Section 15, Subsection 3 of the Money Laundering (Prohibition) Act as amended in 2012.
The EFCC had questioned both men lin October but released them on administrative bail.
Days after reports that he would be arraigned by an anti-graft agency were published, the former Governor had denied allegation of corruption against him, saying it is a politically motivated effort to demonise his time in office as the Governor of the state.
Mr Suswam spoke about the stress in the office of a Governor and said that 24 hours in office was enough to send any public officer to jail.
Mr Suswam had also filed a suit seeking to restrain Governor Samuel Ortom and the Commission of Inquiry from investigating him but a High Court of Justice sitting in Makurdi, Benue State's capital, has dismissed the suit.
Justice Adam Onum, in the ruling on Monday, said that Governor Ortom had the power to constitute the panel of inquiry to gather information regarding affairs of the Suswam administration, to enable him carry out his statutory responsibilities as Governor.
The court, however, cautioned that the Commission of Inquiry lacked the power to summarily issue arrest warrant against Mr Suswam, but could invite him to appear before it to answer questions regarding the criminal breach of trust.
Meanwhile, Governor Samuel Ortom of Benue State has asked Suswam to make certain cash refunds of missing monies to the state government's coffers listing receipts from the sale of government shares at the Dangote Cement Company and that of Julius Berger which were not reflected in the state's income and expenditure records.