Army Warns Against Treasonable Felony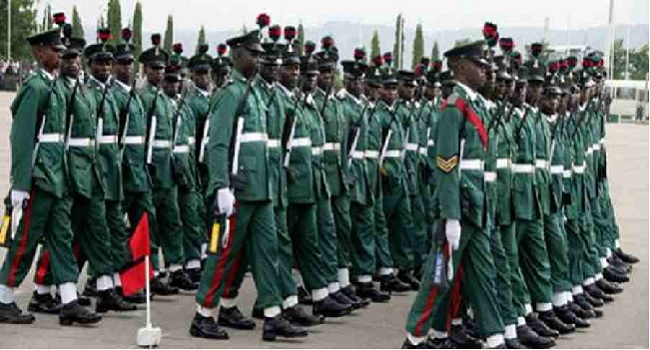 The Nigerian Army has warned those agitating for the disintegration of the nation or engaging in 'treasonable felony' to desist from such, as it would apply the 'Rule Of Engagement' for internal security to the letter. 
While briefing reporters at the Maxwell Khobe Cantonment in Jos on Wednesday on the activities of his division in the war against insurgents, the Commandant of 'Three Division' of the Nigerian Army, Major General Hassan Umaru, warned military officials not to take sides in any conflict, as anyone found guilty would face the consequences.
He reminded Nigerians of the constitutional role of the Armed Forces in suppressing insurrection and act in aid of civil authority to restore order whenever it was called upon to do so by President Muhammadu Buhari.
Major General Umaru, who is in charge of 'Operation Lafia Dole', comprising Borno and Yobe States, said it was the duties of military officials to ensure the enforcement of law and order in conjunction with other security agencies.
The Army General also presented pictures of wanted persons suspected to be Boko Haram leaders, appealing to the public to be security conscious and report any suspicious persons or group of persons to the appropriate authority.
Meanwhile, the Nigerian Army had on November 12, cautioned citizens against any attempt seeking disintegration from the one indivisible entity called Nigeria.
The statement came just as a group, seeking the actualisation of the State of Biafra, held series of protests in the nation's south-east to push their demand.
Addressing reporters in Damaturu in company of the Chief of Army Staff, Lieutenant General Tukur Buratai, the acting Director of Army Public Relations, Colonel Sani Usman, reminded Nigerians of the Army's Rule Of Engagement (ROE) for internal security operations.