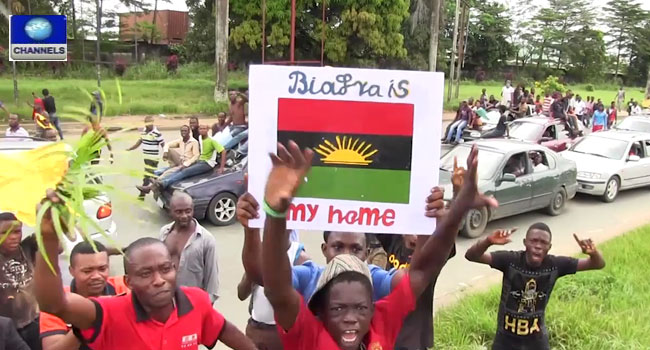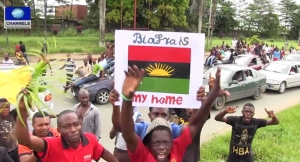 The paramount ruler of Onitsha in Anambra State, Igwe Alfred Achebe, has condemned the widespread protests by the Indigenous People of Biafra (IPOB) calling for the separation of the entire south east region from Nigeria.
King Achebe made the statement on Saturday on the heels of agitations and protests for Biafra nation in some south-east and south-south states.
Protesters have also called for the release of Mr Nnamdi Kanu, the director of Radio Biafra, who has been in detention since last month.
In an interview with Channels Television shortly after his investiture as the Chancellor of Ahmadu Bello University, Zaria, Igwe Achebe told the protesters to shelve the idea of seceding from the rest of Nigeria, as such agitation would only amount to violating the Nigerian Constitution and principles of democracy.
An Indivisible Country
Emphasising that Nigeria still remains a united and indivisible country, the traditional ruler reminded the pro-Biafra agitators of the inherent dangers involved in their action.
He advised them to channel all their grievances to their elected representatives in the National Assembly for consideration, instead of embarking on violent protests that could result into break down of law and order in the region.
Igwe Achebe while noting that Nigerians have remained united since independence, irrespective of the numerous challenges, expressed regret over the renewed agitation for a Biafran State.
"Such violent protests in the name of Biafra will not solve the various economic and social problems confronting the south-east zone or add any value to the development and progress of the entire country," he said.
According to him, the south-east remains an integral part of Nigeria and the leaders from the area so much believe in the unity of the country and would always work towards sustaining such bond.