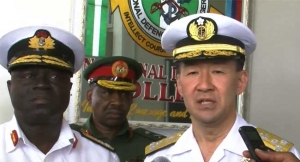 Nigeria and Japan have started plans to boost military cooperation with the aim of improving security in both nations.  
The military cooperation plan was discussed at a security forum held on Monday in Abuja, Nigeria's capital city, by the Nigerian Defence College and Japanese Maritime Self Defence Force.
At the meeting, the Commandant of the National Defence College, Rear Admiral Samuel Alade, stressed the need for enhanced military co-operation between Nigeria and Japan on security matters.
Mr Alade told the President of the Japanese Maritime Self Defence Force, Vice Admiral Umio Otsuka that it was important to invigorate the seemingly dormant military relationship in order to collectively enhance the nations' chances of addressing the amorphous nature of contemporary global security challenges.
"The visit of our esteem guest will trigger more robust and substantially beneficial interaction between our defence forces generally and particularly training institutions in Nigeria," he said.
The President of the Japanese Maritime Self Defence Force, however, requested that his lecture be delivered behind closed doors without the journalists.
Moments after, the guest lecturer told reporters in an interview that military co-operation and intelligence sharing were important in the war against terrorism.
"More than 40 Japanese were killed at the 9/11 incident. And since then, the Japanese government is conducting even military operations to support counter-piracy actions in the Indian Ocean, providing support at sea.
"Now that terrorism has become more globalised, the issue is how we can collectively share the information and intelligence that is key for countering the terrorists.
"Particularly, it is not only by the military, but military and civilian relationship seems to be necessary," Vice Admiral Umio Otsuka stressed.
The Nigerian-Japan relationship has been more of economic than military in the past.
It is hoped that the new relationship would add a boost to curbing insecurity in Nigeria.