President Muhammadu Buhari has urged the Nigerian Senate to look at the extant laws Nigeria had entered into with other countries to consider the chances of accessing funds needed to carry out infrastructural development.
Mr Buhari told the lawmakers at a special presidential dinner on Wednesday that "Nigeria now enjoys goodwill from within and the outside the country now that his cabinet is formed".
He attributed the development to the speedy consideration and approval of the names he sent to the Senate as ministerial nominees.
President Buhari stressed that his request was made considering the state of the economy and problems of infrastructure, which his administration had promised to address.
"Look at the agreements that were made five, six years ago on infrastructure. Look at how generous those countries were, especially China, and see how we can get funding. The advantages are so many. If the power sector works well, it will affect barbers, welders and even tailors.
"If we can get the railways working, we will safe a lot of lives and we will save a lot of fuel," he told the lawmakers.
The Senate President, Senator Bukola Saraki, received a resounding ovation for introducing the Senators, mentioning their names off the cuff.
Even the President gave him a presidential handshake for the rare feat.
Senator Saraki told the President that the law makers recognised that the challenges facing the country were enormous.
He said they would do their work in the interest of the Nigerians at all times without sentiments.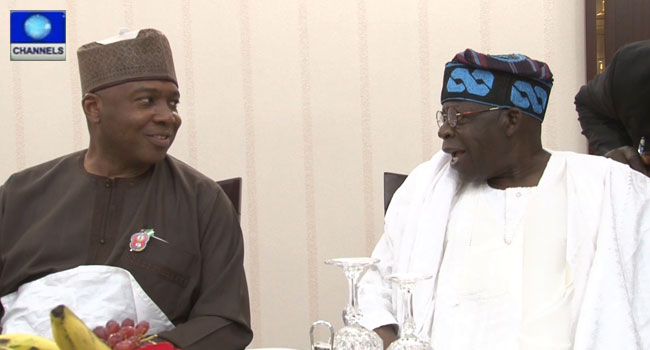 Senator Saraki was also seen having a chat with a former Governor of Lagos State, Senator Bola Tinubu.
The executive and legislature at the dinner believe that the event was the beginning of what would bring about a solid relationship between the two arms of government going forward, a development Nigerians would want to see translate to the development of the country.