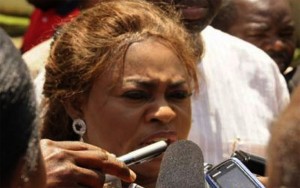 A Federal High Court in Lagos has fixed January 25, 2016 to deliver judgment in the fundamental rights enforcement suit filed by a former Minister of Aviation, Mrs Stella Oduah, seeking to stop an alleged plan to prosecute her over the two armoured BMW cars allegedly purchased for 255 million Naira.
The vehicles are alleged to have been bought by the Nigerian Civil Aviation Authority in 2013 during her tenure.
Justice Okon Abang adjourned for judgment on Tuesday after entertaining arguments from the parties in the suit.
Fighting An Anti-graft War
Oduah had sued the Economic and Financial Crimes Commission; the Independent Corrupt Practices and other related offences Commission, the Attorney General of the Federation and the Inspector General of Police.
She claimed that the ruling All Progressives Congress' government had perfected plans to use the defendants to persecute and humiliate her under the guise of fighting an anti-graft war.
She also alleged that the APC government had perfected plans to prosecute prominent members of the opposition Peoples Democratic Party, including herself, on trumped-up charges in a Lagos State government-controlled court.
She urged the court to stop the defendants from being used against her by the Federal Government.
She had on August 26, 2015 obtained an order of interim injunction from Justice Mohammed Yunusa restraining the defendants from taking any action against her pending the final determination of the suit.
But the AGF and the Inspector General of Police filed a preliminary objection, contending that Oduah failed to establish any cause of action against them, having not proved that she had been invited, arrested or detained by the AGF and the IGP.
They also challenged the jurisdiction of the Lagos division of the Federal High Court to hear Oduah's suit on the grounds that the alleged rights violation did not take place in Lagos.
They further contended that by virtue of Section 46(1) of the constitution and Order 2 Rule 1 of the Fundamental Rights Enforcement Procedure, only a court within the state where Oduah's rights were allegedly violated could hear the case.
The EFCC, had also described Oduah's suit as baseless and speculative.