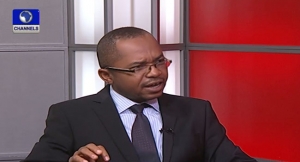 A Nigerian lawyer, Chukwuma Ezeala, has blamed the incident that led to the declaration of the Bayelsa governorship election inconclusive on poor preparation and planning on the part of the Independent National Electoral Commission (INEC) and security agencies.
Mr Ezeala on Sunrise Daily on Tuesday stressed that the violence recorded in Bayelsa could have been averted if the INEC and security agencies had before the election carried out a visibility study of the area to underscore the chances of violence and nip it before the election.
He said: "Places with issues like Southern Ijaw should be militarised.
"We should at this time pay more attention to some early warnings to guaranty that people will come out to vote, that ballot boxes will not be missing or hijacked and that a popular person wins an election in an area".
The lawyer also pointed out that security agencies in Nigeria do not work together, a situation he said had made crime thrive in some areas.
"The police are on their own, the civil defence on their own and even the SSS is also on their own. If they have coordination, you will see that information from the State Security Service can be used by the military and they can even mop up arms.
"If need be you will move the battalion to the trouble spot to ensure that no group will be able to carry out their plans," he stated, emphasising the need for cooperation and sharing of information between security agencies.
Mr Ezeala further stated that the violence that was recorded in the election was also as a result of failure in the system.
"It is all about a failed system. Most times you see that brilliant people that can plan do not take part in the act. They plan and then give others to execute. There is a complete breakdown of order in the system. That is why we suggest that we should go back to the basics.
"When we go back to the basics, we will pick up the right people.
"When you allow some of these brilliant brains to waste, they go into criminality and it becomes difficult for you to handle them," he emphasised.
Malfunctioning Card Readers
On whether the INEC had improved in its election handling since the general election held in March and April, Mr Ezeala said: "I don't think that the electoral body has moved forward from where they were in the March and April elections".
He based his opinion on the fact that there were also cases of malfunctioning card readers, with the former President, Goodluck Jonathan, witnessing the same card reader failure that he experience during the general elections.
"I don't understand why we should be talking about card readers working or not working in a state election when ordinarily we should have brought other card readers.
"They had information about this election, they planned for it, they would have thought of what type of technology or what to do going by the mistakes they made in Kogi.
"One week would have been enough for them to plan better and ensure that these mistakes do not happen again," Mr Ezeala further pointed out.
He asked the INEC to look at its election reports and address the issues earlier identified during the general election and now the Kogi and Bayelsa elections, to ensure they would not reoccur.
The lawyer further condemned the recurrence of inconclusive election declarations, emphasising that man-hour and tax payers' money were being wasted on supplementary elections.