Nnamdi Kanu Questions His Continued Detention In Court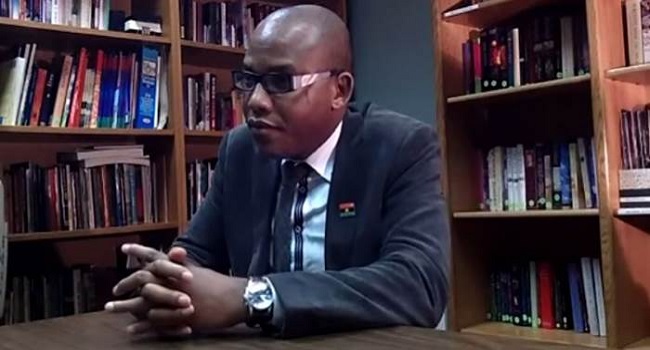 The detained leader of the Independent People of Biafra, Mr Nnamdi Kanu has questioned his continued detention by the Department of State Service despite an order of a magistrate court granting him bail since October 19.
In a motion on the enforcement of his fundamental human rights argued before Justice Adeniyi Ademola of the Federal High Court in Abuja, lawyer to Mr Kanu, Vincent Obete, prayed the court to set aside an earlier order of the court granting the Department of State Service (DSS) leave to detain his client for 90 days, pending the conclusion of ongoing investigation of terrorism and terrorism financing.
Mr Obete also prayed the court to strike out the case against his client pending the outcome of the criminal charge preferred against Mr Kanu at the Chief Magistrate Court.
The lawyer to Mr Kanu further asked the court to admit his client to bail and direct the DSS to comply with the orders of the Chief Magistrate Court which earlier granted him bail in October.
Having listened to the grounds of the application as canvassed by Mr Kanu's lawyer, Justice Adeniyi adjourned the suit to December 14 to enable the lawyer to the Federal Government respond to the application.