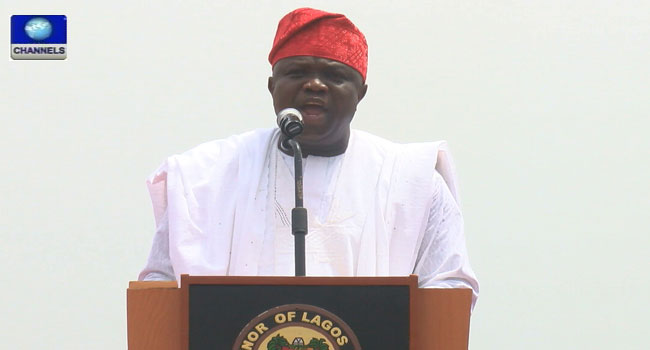 Lagos State Governor, Mr Akinwunmi Ambode, on Thursday inaugurated a committee to boost household and business power supply.
He also charged them to work assiduously to create an enabling environment that will ensure 24-hour power supply to residents in the state.
The Governor, speaking at the Lagos House, Ikeja, during the inauguration, said that the issue of power challenge must be addressed, in order to achieve sustainable economic growth and development in Nigeria and Lagos State in particular.
Governor Ambode said that in view of the importance of the Lagos economy to the nation and the concerns that have been expressed particularly by the business community, his administration has considered it expedient to constitute an advisory committee on power.
He added that no state in the federation is more affected by the state of the power sector than Lagos.
A statement made available by the Chief Press Secretary to the Governor, Habib Haruna, Governor Ambode added that Lagos State accounts for over 60 per cent of the industrial and commercial activities in Nigeria.
The governor emphasised that the energy requirement for the state is estimated at about 5,000 Mega Watts, of which only about 1000 Mega Watts is currently being supplied; hence the need to inaugurate a committee that would ensure the power need of the people is met.
He said members of the Committee consist of representatives from the State Government and industry experts from the private sector, urging them to provide a sustainable guide in the development of a road map for reliable power supply in the state, foster collaboration and develop a congress or platform for all major power stakeholders in the state and the private sector.
Members of the Committee include the Deputy Governor of Lagos State, Dr. Mrs Oluranti Adebule, the Commissioner for Energy and Mineral Resources, Mr Wale Oluwo, the Attorney General and Commissioner for Justice, Mr Adeniji Kazeem and the Commissioner for Information and Strategy, Mr Steve Ayorinde.
Other members of the committee include representatives of Ikeja Electricity Distribution Company, Eko Electricity Distribution Company, Transmission Company of Nigeria, Gaslink Nigeria Limited, Falcon Corporation Limited and Egbin Power Plc.
Governor Ambode, shortly after the inauguration tasked the committee to make electricity available to Lagos residents for both business and domestic use, just as he expressed confidence that they would not disappoint.
The Governor also hinted that in order to underscore his administration's commitment to security of lives and property, his administration has embarked on an aggressive programme of lighting up Lagos.
He explained that major highways and streets are being connected from point to point, using Independent Power Projects (IPPs) and other means effectively.
He also encouraged individuals, private homes and corporate organizations to take up streets or roads of their choice and light them up with connections to their meters and generators, assuring that the state government will reciprocate the gesture by giving concessions to them in the payment of their annual Land Use Charges.