Shiites Clash With Soldiers in Zaria, At Least 3 Dead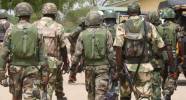 At least three people are feared dead with others injured following a bloody clash between some armed soldiers and the Islamic Movement of Nigeria in Zaria, Kaduna State.
Spokesman of the group, Ibrahim Usman, told our correspondent that the incident occurred around the PZ area in city when a convoy of armed soldiers opened fire on the group while they were hoisting their Sect's flag to usher in the month of Rabi'ul Awal at Husdainiyyah Baqiyyatullah area of the city.
Ibrahim also debunked reports that the group attempted to attack the convoy of the Chief of Army Staff, Lt Gen Tukur Buratai, stating that the clash was only between his group and some overzealous soldiers who were on their way to the passing out parade of the Nigerian Army in Zaria.
An eyewitness also told our correspondent "As early as 12 '0 clock the members of the Shiite barricaded the road where the COAS will pass.
"The security details attached to the Chief of Army staff came down from the vehicle to plead with the congregation. From the distance, we could hear gun shots."
It was gathered that the convoy of the Chief of Army Staff succeeded in clearing the way for him to pass and according to the eyewitness, immediately the COAS left, some soldiers in three trucks arrived the scene.
Attempt To Assassinate
The Acting Director Army Public Relations, Colonel Sani Kukasheka Usman, in a statement made available to the media claimed that the Shiite sect attacked the convoy of the Chief of Army Staff, Major-General Tukur Buratai.
"The Shiite Sect on the orders of their leader, Ibrahim Alzak-zaky today afternoon in Zaria attacked the convoy of the Chief of Army Staff while on his way to pay homage on the Emir of Zazzau and attend the Passing Out Parade of 73 Regular Recruits Intake of Depot Nigerian Army, Zaria.
"The sect, numbering hundreds carrying dangerous weapons, barricaded the roads with bonfires, heavy stones and tyres. They refused all entreaties to disperse and then started firing and pelting the convoy with dangerous objects," the statement read.
The Army said that it considered this a deliberate attempt to assassinate the Chief of Army Staff and members of his entourage and was left with no option than to "defend him and the convoy at all cost as well as open up the barricaded road for law abiding citizens" as this was in line with the Nigerian Army Rules of Engagement and Code of Conduct.
On June 24, 2014, three sons of the leader of the Shitte sect, Sheikh Ibraheem Zakzaky were killed following a bloody clash between his members and soldiers in the same city.