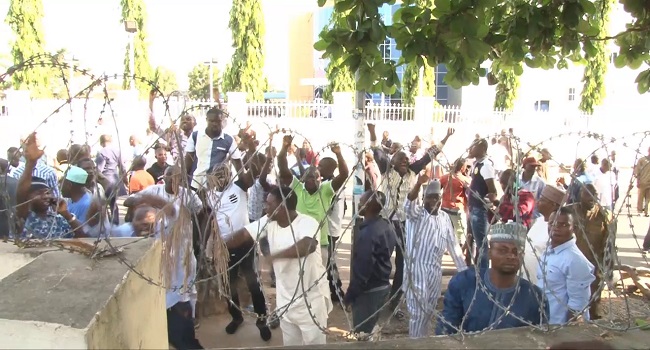 Four principal officers of the Kogi State House of Assembly escaped death on Wednesday when some political thugs unleashed terror on the factional principal officers of the Assembly.
The suspected political thugs, said to be loyal to the embattled Speaker, Momoh Lawal, had stormed a hotel in Lokoja cuddled with guns and machete.
The trouble started at one of the House's plenary when Honourable Ikubile Ochijenu-Acharu raised a motion that 17 members of the House had signed the impeachment of the speaker Honourable Lawal.
Those who were not party to the signatory reacted to the motion on hearing their names, which created a rowdy session in the House.
Shortly after, some thugs came into the Assembly Hall and snatched away the maze.
At the end of the saga both Mr Lawal and the factional Speaker, Honourable Osiyi Ojo, laid claim to the position of Speaker of the House of Assembly  and both also gave date for the next plenary.
With the intervention of the state Governor, Captain Idris Wada, who advised both parties to sheath their sword, the sitting of the factional Speaker could not hold.
While some of the factional principal officers were in one of the hotels in the state relaxing, some political thugs stormed the place, destroyed cars belonging to the lawmakers and some hotel's property.
Two Speakers exist in the Kogi State House of Assembly for now, and with the attack of the lawmakers no one can tell how the problem will be solved.