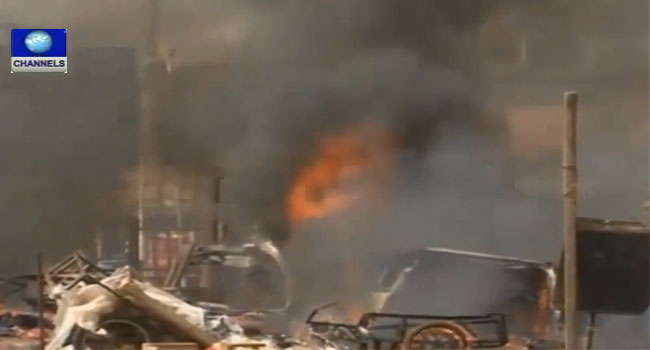 The military in Nigeria has confirmed the death of nine persons in a suicide bombing in Benisheikh, Borno State, carried out by three minors between ages 10 and 15.
In a statement, a military spokesman, Colonel Sani Usman, said that the three suspected suicide bombers went into Benisheikh, Borno State at about 8.30pm.
"They were spotted by ever vigilant Borno State Youth Empowerment Scheme (Civilian JTF) who suspected something fishy about them," the statement read.
Colonel Usman said that one of the suicide bomber was laden with Improvised Explosive Device (IED).
"While the Civilian JTF was in the process of screening the suspect following the necessary drills and precautions, the carrier detonated the IED that led to the death of nine people while 24 others sustained various degrees of injuries.
"The bodies have been evacuated and all those injured are receiving medical attention.
"The security agencies have intensified patrols and security checks in the area," the statement further read.
While condemning the act, the military commiserated with the families of those that lost their lives and the injured.
It further reiterated the need for more security consciousness and vigilance by all especially during the yuletide and New Year holidays.
The military confirmation of the attack came just as another suicide bomb attack was reported in Maiduguri.
Earlier report said at least 37 persons were injured in the attack in Benisheikh, a village barely 75 kilometers to Maiduguri, the capital of Borno State.
Authorities of the General Hospital in Maiduguri on Monday said that all casualties were currently receiving treatment.
No group has claimed responsibility for the attack, but the Boko Haram sect is largely suspected, as the terrorist group has carried out similar attack in the past.
The Borno State Government recently commenced rebuilding of Benisheikh town ravaged by Boko Haram even as villagers initially displaced are beginning to return home.