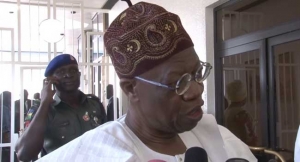 The Minister of Information, Mr Lai Mohammed, has blamed the lingering fuel crisis on what he called the sins of the past administration.
The Minister, who was answering questions from State House correspondents after the Federal Executive Council meeting on Monday, said that the Muhammadu Buhari administration inherited 522 billion naira subsidy arrears which was incurred as far back as August 2014.
He said that the revelation came when the administration went to the National Assembly for a supplementary budget of 674 billion naira out of which 522 billion was for arrears of fuel subsidy.
According to him, the last administration failed to make adequate provision for fuel subsidy.
Mr Lai Mohammed, however, said that the NNPC is gradually importing fuel that will help cushion the effect of fuel shortage.
Meanwhile, at a media interaction in Abuja recently, the Nigerian National Petroleum Corporation (NNPC) expressed belief that there would be no fresh subsidy in the 2016 budget.
The Group General Manager, Corporate Planning, Mr Bello Rabiu, explained that a new framework was being worked on for the management of subsidy on petrol.
Mr Rabiu said that the new template would eliminate subsidy in the next few months, leaving the price of petrol at a capped price of 97 Naira.