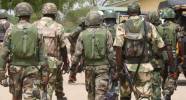 Human Rights Watch (HRW) has alleged that the Nigerian Army killed at least 300 members of the Shiite Islamic movement of Nigeria when they clashed in Zaria, Kaduna State.
The group, in a statement, described the killing as "wholly unjustified".
They, however, want President Muhammadu Buhari to end human right abuses in the Nigerian military.
The HRW claimed its findings were derived from interviews granted by 16 witnesses to the killings and five others, including local authorities, who said the soldiers fired on the sect's members at three locations in Zaria.
"Terrible Carnage"
The group also expressed shock at the alleged response of the presidency to the killings which it said described the clash as a military affair.
It said "Characterising this terrible carnage against Shiites in Zaria as 'a military affair' is shocking. President Buhari should ensure the military's appalling track record of serious human rights abuses is halted and does not continue under his term in office".
The Human Rights Watch further claimed that the soldiers, who carried out the killing, quickly buried the bodies in mass graves without the permission of family members'.
Different figures have trailed the December 12 clash, with the Shiites claiming that at least 500 of its members were killed. A hospital had also given a different figure.
Spokesman of the group, Ibrahim Usman, told Channels Television that the incident occurred around the PZ area in city when a convoy of armed soldiers opened fire on the group while they were hoisting their Sect's flag to usher in the month of Rabi'ul Awal at Husdainiyyah Baqiyyatullah area of the city.
The Nigerian Army claimed that the Shiite sect's attack on the convoy of the Chief of Army Staff, Major-General Tukur Buratai, led to the clash between soldiers and members of the group.
Spokesman for the army, Colonel Sani Kukasheka Usman, in a statement referred to the alleged act by the Shiites as an attempt to assassinate the Chief of Army Staff but which he escaped unhurt. The military also described the incident as 'most unfortunate'.
The State government, the military and other agencies are investigating the cause of the clash, but no report has been released. Several arrests have also been made by the police.