P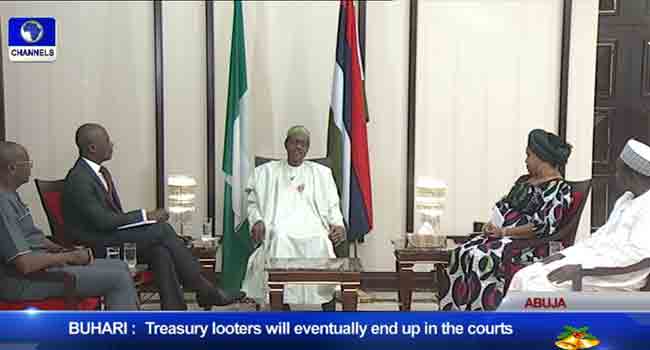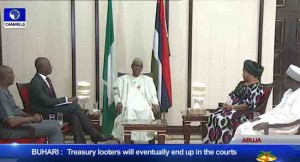 resident Buhari has said that his government will not spare treasury looters as he would ensure they end up in the courts.
He said this on Wednesday night during his maiden edition of the Presidential Media Chat.
The media chat, which was live on Channels Televison and other broadcast stations, saw the President fielding questions on a range of burning national issues from a panel of journalists.
He expressed satisfaction with the progress made so far in the efforts to recover stolen funds.
"I think we are doing quite well considering the circumstances", he said.
"We have been lucky to find some documents where public funds were diverted into personal pockets, where Nigerian crude oil was lifted illegally and the proceeds were put into some personal accounts instead of the federal government account and of course we have started going to court."
He expressed his expectation that the judiciary would see to the proper handling of the cases, noting that the government "cannot prejudge what the courts will do" as "we cannot determine issues while they are still in court".
The President admitted that Nigerians are entitled to know the truth about the anti-corruption campaign but this is dependent on the courts. He,  however, assured Nigerians that monies have already been recovered and the details of the recovered funds and their sources would be made known.
He promised that by the end of first quarter of 2016, his administration "will be kept busy informing Nigerians what progress has been made" in the fight against corruption.
Allegations of Bias
There had been some condemnation of the anti-corruption campaign with some Nigerians alleging that the President is biased but the President insisted that prosecution can only be based on evidences as he believes in facts.
In response to insinuation that members of his cabinet might also be corrupt, he said, "I have been a democrat since April 2002. I don't think I tolerate corruption, I don't think I picked anybody (as Minister) that I know will embarrass my government.
"If you have got any evidence about any of my Ministers I accept responsibility for the 36 ministers I have – although I have 24 ministries.
"I think if you have got the facts, you have got the right as a Nigerian citizen to take them to court."
President Buhari challenged the Nigerian media to engage in more investigative journalism as this would help the efforts to change Nigeria for better.
He also discussed issues of security, the fight against corruption and the state of the economy.
The Presidential Media Chat has been a major platform through which every past Nigerian president, beginning with the return of democracy in 1999, has kept Nigerians abreast of government's activities.