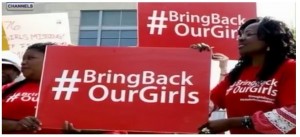 The Bring Back Our Girls group is asking the Nigerian government to set up a special search and rescue team to find the missing Chibok schoolgirls.
At the daily sit-out session to mark 'Day 627' since the girls were taken from their school's dormitory in Chibok, Borno State, the co-convener of the group, Aisha Yesufu, said the group was disappointed that President Muhammadu Buhari did not say anything about the missing girls in his New Year message to Nigeria.
Peaceful March
To further push their demand for the rescue of the girls abducted by members of the Boko Haram terrorist group on April 14, 2014, the group said it planned to stage a peaceful march to the Presidential Villa on Thursday, January 14, 2016, to engage the president.
This date will be exactly 21 months since the abduction of the Chibok girls.
The group is also refusing to accept the President's statement that the Federal Government does not have credible intelligence on the whereabouts of the girls, stating that government needs to consider acquiring credible intelligence.
They believe that there was a credible report on the whereabouts of the Chibok girls, following the testimonies of the former Chief of Defence Staff, Air Marshall Alex Badeh, retired and Governor Kashim Shettima of Borno State.
In the heat of demands from the BBOG and global outcry for the rescue of the girls, Air Marshall had told reporters that the military had a tip off about where the girls where, but that the military was being cautious to avoid civilian casualties.
Few days ago, another leader of the group, Mrs Oby Ezekwesili, approached the Attorney General of the Federation and Minister of Justice, Mr Abubakar Malami, requesting that soldiers jailed for cowardice against the Boko Haram Insurgency and mutiny be reinstate.