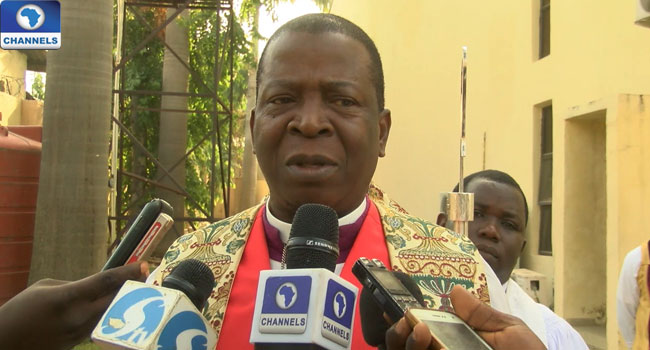 The Anglican Primate, Reverend Nicholas Okoh, has called on Nigerians to embrace integrity, restore values and shun corruption in the New Year.


According to him, a nation that seeks God's blessings cannot continue to dwell in corruption and other vices and expect to receive the blessings.
At a New Year service in Abuja on Friday, The primate urged citizens to make integrity a watchword for 2016.
"One thing that we can get from God is integrity. Let us rebuild our integrity as a people. Let us restore value to our society. When it is restored, we will behave better. You will not do things that are unimaginable in order to get money.
"When we restore values, the common good of the society will be paramount in our mind," he said.
It is the first sermon for the year in the Cathedral and understandably, the hall is full with worshipers who want to start the year on a religious note.
It is a common thing for most Christians around the globe to mark the beginning of every year in churches, praying and hoping for a better year ahead of them.
Another Priest supervising the Anglican Church in Maitama, Benjamin Idume, urged Nigerians to contribute positively to the progress of the nation.
"God; in Him our problems will come to an end. Everyone is called upon to contribute positively to the progress of this country.
"Wherever God has put you, as a politician, civil servant, teacher and in different families, everyone is called upon to make sure that he or she brings positive contribution for the progress of this country," he stressed.
For the former Minister of Lands Housing and Urban Development, Amal Pepple, Nigerians should have faith in the current administration.
"We should have faith in the new government that God has given to us.
"They are preaching a message of change and let us believe that in the new year there will be change in our economy, family lives and in our relationships with one another," the former Minister stated.