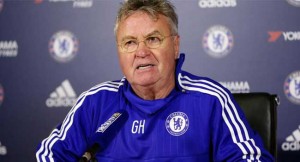 Guus Hiddink was pleased to see the work ethic of his Chelsea side rewarded at Selhurst Park on Sunday.
After resisting some early Palace pressure, the Blues got a foothold in the game and went ahead with a well-worked goal finished off by Oscar.
A stunning Willian strike doubled the advantage in the 60th minute – his eighth goal in all competitions this season.
Diego Costa soon made it three to cap off another fine individual performance from the striker.
Hiddink acknowledged his team's ability on the ball as well as the hard work they displayed in south London, stressing the team would only continue to pick up wins if they continue to complement their abilities with hard work.
"I have been here for three games plus a game I was in the stand," began Hiddink.
"We have started working and of course there is a lot of quality in this squad – not just the first 11 but from one to 22 with some youngsters.
"If the team hasn't been doing well for a long period then it is important to look for security. That's why we emphasised on good, hard work in a tactical defensive way. I don't like to see a team drop back very far and seek false security but to look forward and get the ball forward as soon as possible. When they get the ball they know how to play.
"We don't need to add a lot to the quality of the players. They are blessed by nature with a big quality but they have to know that when things are not going well, you have to look for the causes.
"That's why the very talented players started working on the dirty work and not just the beautiful game – because this league is very demanding and if you think you can do it just on your natural quality this league will kill you.
"The attitude is okay and automatically their quality comes through. The efficiency of this quality in the past half-year has been very low. We talked about that, we did it in training – small conversations – but if they have this quality and the team is well organised they must produce and then we can enjoy how they play."
Midfield Balance
Nigeria's John Mikel Obi was also singled out for praise for his star performance in central midfield.
"He played very well as he also did in the previous games. He's the ideal player in my option to bring balance to the team.
"If the team is not willing to defend well or have the right balance then you concede a lot of goals. I thought John Obi can be one of the key figures in getting the balance back. On top of that the talented players can then explore their qualities.
"He can recover the radar. He knows the game very well. He knows where the strength of the opponent is and he knows exactly how to cope with that. He has a very good eye, a very good nose, and a very good sense of where to recover.
"He doesn't do it in a very brutal way – he's very, very elegant. What I like to see very much is not just a quality player but a player who can defend so smoothly. It's beautiful to see. He doesn't lose many balls, he's good in short passing. I don't expect and I don't ask him to make the decisive final pass. He can but no, we let the other players do that."
Hiddink's opposite number Alan Pardew was full of praise for the Blues.
"We've been involved in every game until the last moments this season but not today," the Palace manager said.
"Chelsea were very good. A lot of their stars turned up. Their mentality has changed – you can see that."