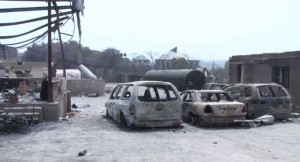 A delegation of investigators from the Department of Petroleum Resources (DPR), Abuja, on Sunday stormed the Christmas Eve Gas Plant explosion site at Nnewi, Anambra State, for the commencement of investigation to unravel the cause of the incident.
The Assistant Director in charge of Technical Safety Control, Engr. Ebiye Sofimieare, who led the team for the preliminary investigation and cross examination of the Company Management Officers to ascertain the cause of the explosion, said a detailed inquest into the cause of the incident would commence.
He added that there would be an effective institution of Safety Case Regime, strict enforcement of Down Stream Sector Asset Integrity Management and mandatory staff training standards.
Engr Sofimieari said that a Uniform Standard Operations Procedure for all plants across the country in the area of taking delivery and discharge of substance without incidence will be established.
The Managing Director of the company noted that his heart still bleeds over the lives lost but bleeds more over the over- blown proportion of the reported death figure.
The investigating team gave an assurance of speedy inquest, adding that since gas related businesses still go on, company owners must ensure that the syllabus of training given to workers is relevant to the operation they are running.
Eight people were killed and several others injured following a gas explosion at a plant belonging to the Intercorp Oil Limited, a subsidiary of Chicason Group located along Onitsha-Owerri expressway.
The bodies were burnt beyond recognition and according to eyewitnesses, the disaster occurred about midday when a consignment of gas was about being transferred to the company's dump, due to leakage, there was a massive explosion which quickly spread to nearby houses wreaking havoc.
The Anambra State Governor, Willie Obiano, alongside the traditional ruler of Ontisha, Igwe Alfred Achebe, have visited the area and expressed their condolences to the families of the victims.
The Governor expressed worry and wondered why such a tragic incident would happen in a season of celebration but remarked that God knows best.