Robbery Aftermath: Ekiti Drivers Protest Colleague's Killing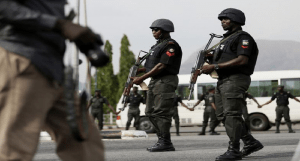 Angry commercial drivers on Wednesday unleashed mayhem on some policemen on duty at a checkpoint on an expressway in Ekiti State, destroying two of their patrol vehicles.
The group of Ekiti drivers also allegedly attacked the Divisional Police Officer in the Council, Mr Anthony Okpaleye.
The violence followed a robbery on the road which resulted in the death of one of their colleagues, an incident the drivers blamed on Police negligence.
It was reported that the robbery took place between two Police checkpoints along Aramoko-Igede highway.
But the Police spokesman in the state command, Alberto Babayemi debunked the allegation by the Ekiti drivers that the Police did not respond in time.
The driver, Mr Toyin Philips, was reportedly killed by suspected highway robbers at about 7am.
The 18-passenger bus he drove was owned by the late Chairman of the National Union of Road Transport Workers, Mr Omolafe Aderiye, who was assassinated in September, 2014 by unknown gunmen.