INEC Reviews Guidelines For Bayelsa Election Re-run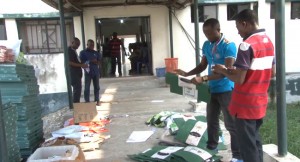 The Independent National Electoral Commission (INEC) has revised its guidelines for the re-run of the governorship election in Southern Ijaw Local Government Area of Bayelsa State.
Voting will also hold in 102 Polling Units across six other Local Government Areas of Bayelsa State, according to a statement by INEC.
The Commission said all the parties had given their consent to the revised guidelines, which it believes would help to fast-track the exercise on Saturday, January 9.
According to the new document, accreditation and voting will go on simultaneously while ad-hoc officials, observers and journalists are to be given life jackets because of the terrain.
An official of the commission said that the electoral body had started the movement of voting materials to the Registration Area Center (RAC) to ensure they were closer to the polling units, a strategy he was hopeful would make the process more efficient.
"Tomorrow we will move the materials directly to the polling units from the RAC.
"Another decision that was taken at a meeting with political parties yesterday [Thursday] was that we should consider accreditation and voting to go simultaneously and this is a departure from the norm but all the parties signed a document that this should be done.
"There is a lot of benefit in doing that. This means that we will conclude the polling quite early," a National Commissioner with the INEC, Mustapha Lecky, told reporters.
According to the INEC official, the polling units will open by 80:00am, with a plan to close voting by 2:00pm local time.
"Severe Militant Activities"
The INEC had declared the Bayelsa election inconclusive after it rescheduled the governorship election in Southern Ijaw for January 9.
Professor Mustapha Leki announced the rescheduled election at the headquarters of INEC in Yenagoa, the capital of the State.
He said the INEC experienced major disturbances and challenges in a number of places, especially the Southern Ijaw Local Government Area.
"These were occasioned as a result of severe militant activities. As a result of this development and working in conjunction with security agencies, our first concern is to take steps to stabilise the situation to ensure the safety of electoral officials and the security of materials," he told reporters.
After INEC rescheduled the election, the major candidates – the incumbent Governor, Seriake Dickson of the Peoples Democratic Party and the candidate of the All Progressives Congress (APC), Mr Timipre Sylva – expressed displeasure with the circumstance that led to the cancellation of election in the area.
While the incumbent governor said he had set up a judicial commission of enquiry to examine the alleged violence and thuggery during the governorship election, the APC candidate said the action of the election umpire was a rape on democracy that had denied the people of Bayelsa the right to choose their leaders.