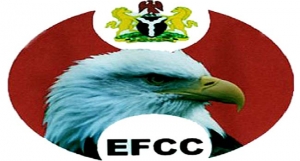 The Economic and Financial Crimes Commission (EFCC) has denied reports that it is focusing its anti-corruption fight on opposition, with the release of Jafaru Isa, an All Progressives Congress (APC) Chieftain and the continued detention of the Peoples Democratic Party's National Publicity Secretary, Olisa Metuh.
The opposition party had alleged that the release of Jafaru Isa showed that the anti-corruption crusade was a much-hyped crusade to prosecute the leaders of the Peoples Democratic Party (PDP).
"The release of Jafaru Isa, a known associate of the President and Chieftain of the APC, eight hours after his arrest, while our Spokesman remains in detention even when the two are being investigated over same allegation, clearly shows that the President Buhari-led APC government is not fighting corruption but using the much-hyped crusade as a cover to prosecute PDP leaders and decimate the opposition, a project the EFCC has clearly yielded itself as a willing tool," the PDP claimed.
In a statement by the commission through its Head, Media and Publicity, Wilson Uwujaren, the EFCC explained the reason behind the release of Mr Isa, who was arrested for his involvement in the arms procurement scam of a total of 170,000,000 Naira.
"Upon his arrest, the retired General admitted receiving the said sum from Dasuki and immediately refunded a total sum of 100 million Naira, with an undertaking to refund the balance of 70 million Naira in two weeks," the EFCC said.
The commission also mentioned the state of the APC Chieftain's health as another factor that prompted his release.
The EFCC pointed out that the grant of bail does not amount to exoneration of the suspect.
In the case of the PDP's National Publicity Secretary, the EFCC revealed that "Metuh, who is exposed to the tune of 1.2 billion Naira in the arms scandal, has shown no readiness to refund any amount of money to the EFCC, nor has he signed any undertaking to do so at a future date".
It also claimed that contrary to claims by his party, the PDP Spokesman was not being detained illegally, as the commission obtained a valid court order to hold him.
The commission gave the assurance that Mr Metuh would be released once he satisfied the condition for the discretion to be exercised in his favour.
The EFCC further said it would not be intimidated or stampeded by any campaign of calumny intended to detract it.