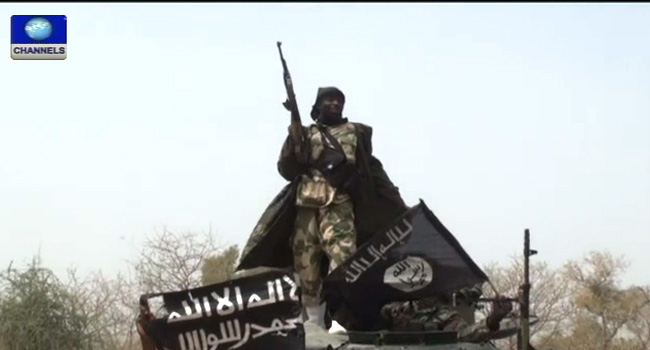 Barely a day after the Interior Minister led a delegation to Yobe State to assess the extent of destruction by Boko Haram militants, the insurgents have attacked the 120 Taskforce Battalion of the Nigeria army in the state.
It was gathered that the militants attacked the Army base stationed in Goniri town in Gujba Local Government Area at about 4:00AM but were repelled by soldiers who engaged them in a gun battle.
The Spokesman of the 27 Task Force Brigade in Damaturu, the Yobe State capital Lieutenant George Okupe, told Channels Television that some of the militants were sighted by security forces around Tashan-Fulani village in Tarmuwa Local Government Area of the state, which is 35 Kilometres north of Damaturu.
He said 17 of the militants were killed while several others escaped with severe gunshot injuries in the encounter which lasted several hours, with many of the residents reportedly fleeing the violence.
One of the residents told our correspondent in the state that they heard heavy gunshots and explosions and had to run for safety, adding that the battle continued into the early hours of Friday.
The Spokesman also said that 300 rounds of assorted ammunition were recovered from the suspected Boko Haram fighters along with several explosive devices.
Goniri is one of the communities recently recaptured by security forces who are currently working to clear the town and other surrounding community preparatory to the return of the residents who are spread in IDP camps in Yobe and Borno states.