Osinbajo Clears Misconceptions About Promised 5,000 Naira Stipend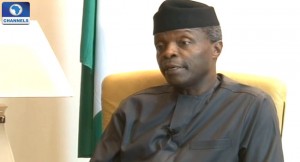 Nigeria's Vice President, Professor Yemi Osinbajo, says contrary to the misconceptions about the Conditional Cash Transfer, the scheme is well thought out and will cater for thousands of unemployed youths.
In an exclusive interview with Channels Television at the Presidential Villa on Wednesday, Professor Osinbajo stressed that the cash transfer promised during the campaign of the All Progressives Congress was meant for the poorest in the society and not for the unemployed people, as popularly believed.
"There is a bit of misrepresentation of what it is.
"Some people have suggested that we are giving 5,000 Naira to unemployed young people. No!
"What we are doing for young people, graduates and the unemployed is the teachers' scheme as well as the vocational training," the Vice President explained.
He stressed that the government was looking at other aspects of social investments that would tackle the youth employment situation in Nigeria.
"Youth employment is very crucial, especially because we know now… with all of the percentages of out of school graduates and undergraduates who have been out of school for a while and have no jobs.
"We think that for graduate employment, a direct creation of jobs and the 'Teach Nigeria' scheme that will employ 500,000 teachers, will address some of that concern," he told Channels Television.
Professor Osinbajo further stated that the government was also looking at addressing the challenges of those who were not graduates.
"We are looking at investing in that also substantially and how we intend to do that is by this youth employment scheme that will involve a lot of training in vocational skills, entrepreneurship, business methods and all of that," the Vice President stated.