Police To Commence Restoration Of Civil Authority In Recaptured Territories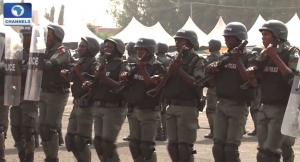 The Inspector General of Police, Solomon Arase, has commenced preparation for the restoration of full civil authority in the recaptured territories of Adamawa, Borno and Yobe states Northeast Nigeria.
This followed the deployment of the Assistant Inspector General of Police in charge of operations, Mr. Sotonye Wakama to three states with a view to map out strategies for re-establishing civil authority which has over the years been altered by the dreaded sect group, the Boko Haram.
While in Yobe state, the DIG was received at the quarter guard of the Command headquarters in Damaturu the state capital.
The DIG briefed officers and men on the role of the Police in the re-establishment of government institutions in the recaptured areas, where he said the present administration is determined to restore peace across the country, stressing that Police is the key to its actualisation.
The DIG told the police officers that the restoration of the civil authority in the war devastated zone will be a huge task that must be achieved and assured that the police structure in the troubled areas will be reorganised with a view to meeting the present challenges.
On the issue of promotion and general welfare, he said the police has long taken decision to encourage the officers and men in the war zone, with promotions as an incentive to encourage them to work towards ending the insurgency.
He commended the operation know your neighbour as launched in Yobe state saying he will ensure similar programme is launched in Adamawa and Borno states.
The Yobe State Commissioner of Police Mr Zannah Ibrahim on his part said policing Yobe during the insurgency era has been a huge task but the command  has been striving to improve the security situation against all odds.
The CP observed that the morale of the police in the state has been generally low and solicits for motivation as a key factor that will boast the morale of the police in actualising the re-establishment of civil authority in the war ravaged areas.
He also said the command under his leadership has worked assiduously towards restoring the image of the police force.
He revealed it had gone a long way in improving the synergy with the civil population.
The CP also called for deployment of more officers and men to the Yobe command as many of the officers posted to the command has worked their ways back to safe areas.