Metuh Requests For Variation Of Bail Conditions As Trial Begins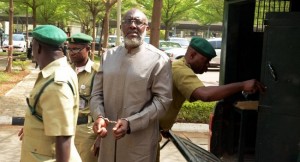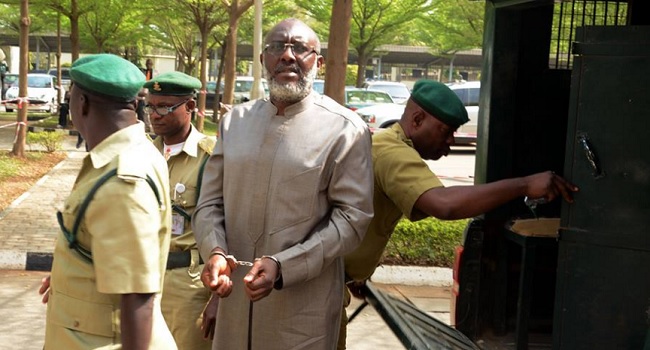 The trial of the National Publicity Secretary of the Peoples Democratic Party, Mr Olisa Metuh, has started, with the opposition party's spokesman requesting for a variation of his bail conditions. 
Mr Metuh made the request before his trial began on Monday.
However, because the prosecution was just served, the trial judge, Justice Abang Obong, deferred hearing on the issue to January 27.
Witness Testify
He, however, declined to adjourn the trial, asking the first prosecution witness to testify.
The witness, one Miss Nicole Ararume, claimed she was the wealth manager for Mr Metuh and his company Destra Investment Limited.
She narrated to the court how she received the sum of two million dollars paid in 100 dollar bills, which she took to a Bureau De Change for onward transfer to the Asset and Resources Management account of Mr Metuh and his company.
The lawyers to Mr Metuh, however, asked for an adjournment for him to prepare materials required for cross examination.
"Her allegations are serious and there is a need to get the necessary documents to enable me adequately cross examine her," Mr Oyeachi Ikpeazu told the court.
However, the counsel to the Economic and Financial Crimes Commission, Mr Tahir Sylvanus, objected to the application.
He said: "It has been known to the defence that trial will commence today, as such, it should have adequately prepared for the case".
Mr Sylvanus also told the court that he had front loaded all the account details relating to the transaction as such there was no cogent reason why the hearing should be adjourned.
Again Mr Ikpeazu argued that he could not cross examine a prosecution witness based on its document.
He told the court that the defence would also rely on its own generated document to do so.
The council to Mr Metuh further complained that it had been difficult to adequately prepare for trial as the prison officials have made interaction with his client's difficult.
On Friday, a Federal Capital Territory (FCT) High Court granted Mr Metuh bail in the sum of 300 million Naira and two sureties in like sum.
In the ruling, the Chief Judge of the FCT High Court, Justice Ishaq Bello, stressed that the sureties must be resident in Abuja, Nigeria's capital city.
Mr Metuh is facing a seven-count charge of criminal breach of trust, corruption and money laundering.