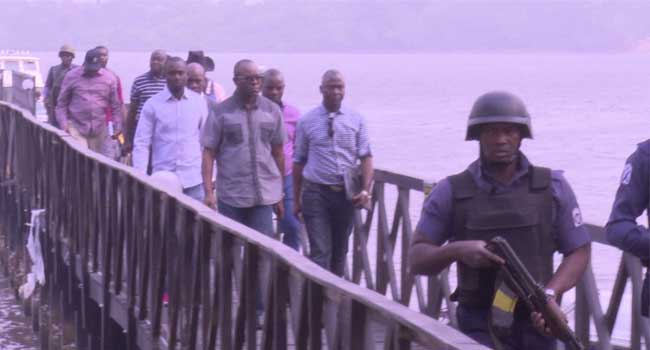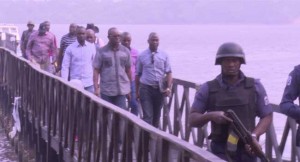 The Minister of State for Petroleum Resources on Monday, visited the pipeline network in Robert village around the Atlas cove in Lagos State.
Dr. Ibe Kachikwu's visit to Nigeria's commercial capital was part of his tour of the country, to assess the pipeline network across the states, especially the notorious ones.
His next port of call would be the Arepo area in Ogun State which has remained a haven for pipeline vandals.
The most vandalised line is the 'Systems 2B Network', which starts all the way from the Atlas cove through Arepo to Mosimi and then to Ibadan in Oyo State.
Shocking Discoveries
At Roberts Island, a village off Lagos waters near Atlas Cove, the wanton act of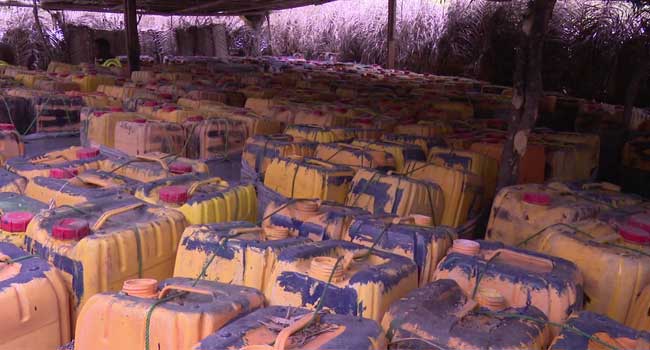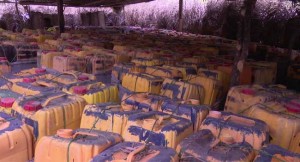 sabotage was clearly evident as the village has practically set up a distribution hub for petrol by perforating the pipelines.
Hundreds of jerry cans and work tools used in perforating pipelines and siphoning products were discovered buried under the sand.
It appeared all dwellers in the community had a role in the vandalism and a worried Dr Kachikwu could not hide his disappointment.
"I must say that I was very disillusion to find this discovery but much as I was happy that it was found, it just took a lot of wind off my sail in the sense of what next and who knows how many more have not been discovered.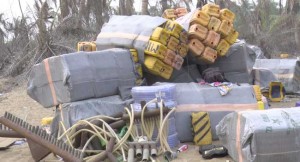 "At the end of the day, the responsibility for protecting the assets of Nigerians must lie in the hands of Nigerians.
"There is no magic that I have that I am going to be able to deliver zero incident environment, given the number of attacks we are getting everywhere but at the end of the day, communities like these ones must begin to rise up and say this is just not right."
Refineries To Resume Production
It was barely two weeks that militants forced the shutdown of two of the nation's refineries and a power cut of about 1,000 megawatts by blowing up a pipeline, but the cheering news is that a truce has been reached with the community and repair work would resume.
The Minister said that there had also been some guarantees from the communities for protection and that in the next one month, the refineries would resume production.
He also said that the issues of vandalism and falling prices in the oil sector could be a blessing in disguise for Nigeria if the country engages effective management systems across board.