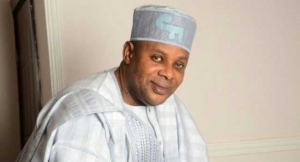 The Deputy Governorship Candidate to Abubakar Audu during the November 21, 2015 Governorship election in Kogi State, James Faleke, has raised the alarm over attempts to announce his name as Deputy Governor during the swearing in ceremony of Yahaya Bello as Governor of Kogi State.
According to Faleke in a statement signed by the Director, Media and Publicity, Audu/Faleke Campaign Organisation, Honourable Duro Meseko on Wednesday, the plan was hatched for Bello to escape the obvious lacuna of not running the Supplementary election with a Deputy and also to give some form of legitimacy to the apparent unconstitutionality of the action.
"I want to bring to the attention of Nigerians, plans to call me out to take oath of allegiance as Deputy Governor to Yahaya Bello today in Lokoja since it is the Deputy that takes oath first.
"The script is to announce my name for oath taking at least three times after which they would declare that the Deputy Governor-elect has absconded, but would be sworn in at a later date. They would now go ahead to swear in Bello as the Governor", he stated.
According to Faleke, " let me make it very clear to the good people of Kogi State and Nigerians in general that I am not the Deputy to Yahaya Bello and will therefore, not be present today (Wednesday) at his inauguration.
"I had made my position abundantly clear to my party, the All Progressives Congress (APC) and Independent National Electoral Commission ( INEC ) that I will not serve as Deputy to Bello, neither would I participate in the December 5, 2015 Supplementary election.
"A strongly worded letter was written to the leadership of APC and INEC to back up my position. It is therefore the height of political mischief for anyone to attempt to call my name for oath taking at an inauguration ceremony they know I would not be present ".
Honourable Faleke restated his faith in the judiciary to restore back the Governorship mandate which he said rightly belong to the Audu / Faleke team.