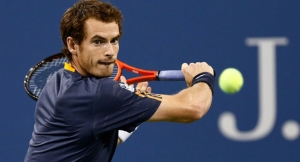 Andy Murray has reached his fifth Australian Open final after defeating 13th seed Milos Raonic.
Murray needed five sets to beat the 25-year-old Canadian.
The 28-year-old Scot prevailed 4-6 7-5 6-7 (4-7) 6-4 6-2 in a gruelling four-hour contest.
He will meet defending champion Novak Djokovic in Sunday's final.
Murray, who has been a runner-up in the Australian Open four times, said of the epic battle, "It was tough in that third set. In the tie-break he didn't miss a single serve and it is frustrating when you don't get a say in the points.
"He definitely slowed down in the fifth set, which was unfortunate for him. It would have been nice to have played a more competitive fifth set. The fourth set, I thought he was still moving well. You just have to focus."
About his chances against Djokovic on Sunday, he said, "A lot of things are important against the best players in the world. You can't do anything poorly.
"Novak's played extremely well, in his last couple of matches in particular. Hopefully this time it can be a different result."