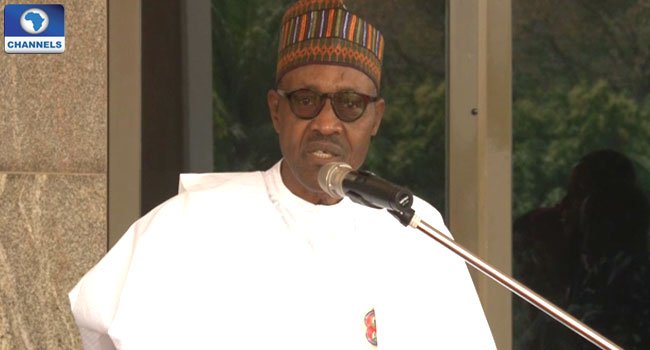 President Muhammadu Buhari has called for an intensification of intra-African trade and acceleration of the pace of economic integration across Africa.
The President gave the call while speaking at a banquet in his honour at the conclusion of his state visit to Kenya.
According to a statement released by his spokesman, Garba Shehu, President Buhari said that the expansion of trade relations between Nigeria and Kenya in recent years should be replicated by all other African countries to speed up the pace of economic development on the continent.
Part of the statement reads; "We now have Nigerian industrialists establishing cement plants in Kenya while Nigerian telecommunications operators are learning and adopting the Kenyan mobile banking model as a tool for financial inclusion in rural Nigeria.
"We have Nigerian farmers coming to learn from successful Kenyan farms while at the same time, we have many up and coming Kenyan oil and gas businesses partnering with Nigerian oil companies.
"We have Nigerians drinking Kenyan coffee in their homes and offices, while we have many Kenyans listening to Nigerian music and watching Nollywood movies," President Buhari said.
"These developments point to a real integration on the continent beyond formal diplomatic relationships. Greater intra-Africa trade will ultimately result in the creation of millions of jobs within Africa for Africans," the President added.
The President also expressed hope that Nigeria and Kenya will continue to build on the mutually-beneficial trade and economic relations between them.
He called for the rapid implementation of all bilateral agreements already signed by the two countries and the convening of their Joint Commission for Cooperation.
"As our two governments move ever closer, our business communities will also take full advantage of this momentum to increase trade and economic activities," he said.
"I feel confident that by the end of this visit, new and solid bridges for movement of persons, goods and services would have been constructed," President Buhari added.
The Kenyan President, Uhuru Kenyatta, announced that both leaders agreed to intensify bilateral cooperation on trade, investment and the fight against corruption and terrorism.