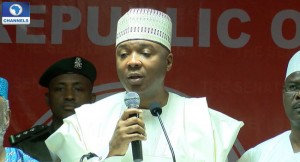 Senate President Bukola Saraki has warned that the 2016 Budget would only be successful, if emphasis would be on the non-oil and independent revenue generating sources.
Senator Saraki while answering questions from Senate Correspondents after commissioning the newly upgraded Senate Press Centre at the National Assembly said the Eighth Senate would focus attention on the revenue generating areas and ensure that all leakages were blocked.
The Senate President stated that though the 2016 budget proposal was ambitious, it could be achieved if all that is necessary to make it work was put in place.
"Some of the things that we will begin to look at and which we are going to advise the executive is that while we are working on the budget now, they too should begin to start working on how to make a plan for implementation.
"What tends to happen is that even after we have passed the budget, the administration bureaucracy sometimes make the budget delay," he said.
The Senate President further stated that it was likely that the Senate would come out with an amendment bill as regards certain areas of the procurement bill.
"That is something that is likely to come out very soon.
"Some people are looking at that now to see again how we can help the executive to see that the budget is implementable.
"The second areas is the issue of funding the deficit," he told reporters.
He further expressed happiness that the Minister of Finance, Kemi Adeosun, had made some comments about the deficit in the budget and how it would be funded.
"That is another area that even though we do our part as regards the passing of the budget, funding the deficit is key to ensure that the ability to raise those funds are there," he stressed.