Yobe IPAC Disagree With INEC Over By-Election Timetable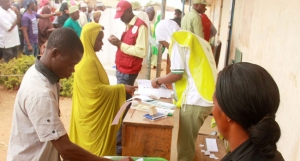 The Inter Party Advisory Council (IPAC) in Yobe State has expressed displeasure with the timetable released by the Independent National Electoral Commission (INEC) for a planned by-election into a vacant National Assembly Office in the northeast Nigerian State.
The vacant office is sequel to the nomination of Hon Khadija Bukar Abba Ibrahim of the House of Representatives to serve in the cabinet of President Muhammadu Buhari.
INEC had scheduled the by-election to hold on February 27 to fill the vacuum created by the exit of Mr Ibrahim who is now the Minister of State for Foreign Affairs.
While addressing reporters on Wednesday in Damaturu the capital of the State, the Chairman of IPAC in the state, Umar Kukuri, said the three weeks given for political parties to prepare for the conduct of the election was inadequate.
They sought for an extension.
"The council wishes to note with concern the timing of the election is inadequate for us to mobilise our electorate to participate in the election.
"In view of this therefore, we wish to appeal to INEC to extend the time by two months for adequate preparation on their part and our part as political parties," Mr Ibrahim stressed.
The party emphasised that some electorate in the state were in faraway Gombe, Bauch, Kano and Kaduna States and needed sufficient time to mobilise them for effective participation.
Some politicians in an interview at the media briefing called for more time, as the constituency that the election would be held was worse hit by the current insecurity problem bedevilling the state.
They pointed out that an extension would afford the political parties more time to mobilise their members for credible and acceptable polls.
The spokesman for INEC in Yobe State, Mr Bagudu Nna, in response to the request of IPAC, said INEC had taken its stand on the issue, as they were already implementing the decision of the National secretariat.
He urged Yobe IPAC to channel its grievances to electoral body's national headquarters.
The election will be conducted in Gujba, Gulani, Damaturu and Tarmuwa Federal Constituency located in Yobe East Senatorial Zone of the state.