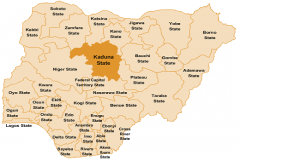 The families of Police and Civil Defence officers who lost their lives in different operations in 2015 have received 100,000 Naira each from the Kaduna State Government.
The deceased officers, who were members of the state's Joint Security Task Force code named 'Operation Yaki', were killed while on official assignment.
Presenting the money on behalf of the state government to relatives of the deceased officers on Thursday, the Coordinator of the Operation Yaki Joint Security Outfit, Yakubu Soja, said that the gesture was to serve as palliative measures aimed at cushioning their economic hardship.
He assured them that the state government would do everything possible to ensure that the families of the deceased are properly assisted.
Mr Yakubu Soja, while commending the efforts of the Police and other security agencies in fighting crime in the state, said that cattle rustling, armed robbery and other related crimes have reduced as a result of the Joint Security Operation going on in different parts of the state.
The officer in charge of the joint security outfit, Kassim Bala, expressed gratitude to the state government for the gesture and promised that they would intensify the fight against crime in the state.
The state government also donated three ambulances to the Joint Security team to be used for emergency and rescue operations.