Buhari Saves 2.2 Trillion Naira Using TSA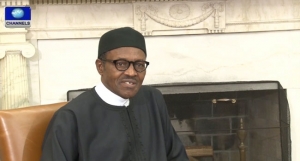 President Buhari says he has so far saved 2.2 trillion Naira using the Treasury Single Account (TSA).
The President gave the revelation while interacting with a cross section of the Nigerian community in the United Kingdom on the side-line of the Supporting Syria Conference in London.
He berated the past administration for operating several accounts with which they siphoned money belonging to Nigerians vowing not to relent in the fight against corruption.
President Buhari said that he would make every Nigerian accountable and that money recovered so far can fund the country's deficit and infrastructure development.