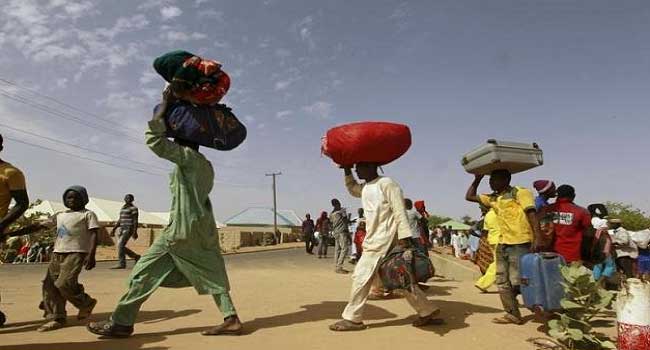 Recent attacks by the outlawed Boko Haram in Borno villages has thrown locals of rural communities in panic as many are now migrating to Maiduguri.
Three elderly women have been burnt alive in their huts while a boy got shot in a late evening attack on Mairi-Mai-Mmube village, 11 kilometres away from the capital city of Borno.
Friday began like any other day until the terrorists came calling, announcing their arrival with gunshots as explained by the locals.
"After the Magrib prayers yesterday we all sat outside with friends when we heard gunshots. We escaped in different directions and only returned when we felt they have left. We met all our homes burnt and our possessions looted," one of the locals said.
From the rubble of what used to be home, they picked the pieces of their only possessions, determined to flee to safety. Even the children were well aware that all was not well with their village.
Surrounding villages are not taken chances as they have also started migrating in droves to Maiduguri, the safest town in Borno.
Mairi-Mai-Mmube is only five kilometres from Dalori where more than 60 people were killed in a similar attack one week earlier.
Community leaders say at least 10,000 people have been displaced as rescue workers commence documentation for the newest set of Internally Displaced Persons in the state.
The Senator representing Borno Central at the National Assembly, Bashir Garbai, is not happy with recent directives suggesting that the internally displaced persons living in Maiduguri can now return to their homes.
He told Channels Television that concluding the insurgents have been decimated is living in denial.
Recent events in the theatre of operation has shown that the anti-terrorism war is far from over. The renewed vigour with which attacks are carried out lately has dampened the hope of people making the much desired peace a mirage.