Ogun Customs Reads Riot Act To Smugglers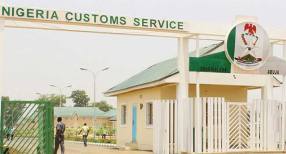 The Ogun State Customs Area Command says five foreign nationals have been arrested, while six trucks of unprocessed woods felled illegally across forests in Ogun State and being transported to Benin Republic have been impounded.
The new Area Comptroller of Customs in Ogun State, Mr Waindu Multafu, made the disclosure while parading the seized goods neatly packed inside the trucks before journalists in Abeokuta, the Ogun State capital.
The Customs said that smuggling of unprocessed wood remains a serious offense punishable under the Nigerian Law.
According to the new Area Comptroller, about 1,035 bags of rice have also been seized from smugglers across border towns in the state.
He, however, admonished genuine businessmen and women in the state to always patronize genuine Customs and licensed agents in their business dealing in order to improve government revenue for socio economic development.