Outrageous Electricity Tariff Rate Is Illegal – NLC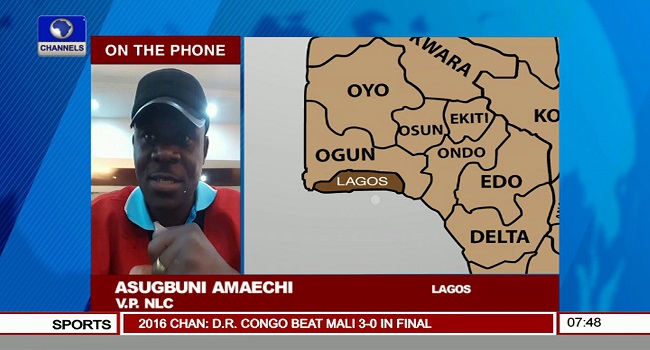 The Vice President of the Nigerian Labour Congress (NLC) has expressed dissatisfaction  in the increase in  electricity tariff rate by the Distribution Companies (DISCOs).
On Channels Television's Sunrise Daily on Monday, Mr Asugbuni Amaechi said "the NLC through its supreme organ will today (Monday), Pickett the DISCOs as regards the outrageous increase in tariff. We are doing that nationwide.
"We regard it as illegal, an increase that didn't bear in mind, the stakeholders involved, that didn't consider Nigerians and we believe that there was no consultation to this effect.
"The increase itself, is unacceptable because it affects majority of Nigerians – we can't talk about increasing the tariff when there is no availability of power," he stressed.
"Ungodly Policy"
The Vice President of the NLC further gave reasons for the nationwide protest.
"We proceeded with this action because they wanted to know what the NLC would do.
"This is a mild approach because we have shut down the nation as a response to this ungodly policy.
"We believe that by picketing the DISCOs,  there should be a reverse to that action before the end of today (Monday), otherwise, we may have to take some other drastic steps.
"This protest is to ensure that we occupy their premises with the intention of giving them the serious message on behalf of Nigerians that they cannot go ahead with the decision to increase the tariff because whatever we are doing today, as we speak, is to implement integrity", he maintained.
Robust Metering Plan
In response to the NLC's demands, the Director of Eko DISCO, George Etomi, who was also a guest on Sunrise Daily, said that the increase in tariff was a function of the entire electricity chain.
"It is not just the DISCOs, it is a chain that started with gas, generation, transmission and distribution. The entire system is in liquid – so, it is not a bankable proposition," he explained.
Mr Etomi further said: "I don't think anyone would argue the fact that metering is out of this business.
"We have argued several times that the priority should be for everyone to be metered.
"But when you want to do a robust metering plan, it must be a plan that works for everybody.
"Let's not forget that this industry has been in existence close to 100 years, and if everybody could not be metered in 100 years, I don't know why in 18 months, they expect metering to happen".
Smart Metering Platform
The Eko DISCOs'  boss said that the type of meters were important in determining the tariff.
"When we came on board, we met the Credited Advanced Metering Implementation Programme by which, consumers were supposed to pay for their meters which is deducted over a period of time.
"Most of these meters are pre-paid. They are completely unreliable – there is really no need to continue with the pre-paid meters.
"We decided to move onto the Smart Metering Platform which would eliminate, almost completely, issues to do with the amount you consume," he added.