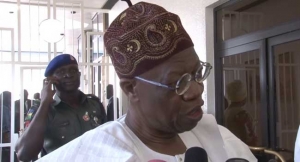 The Minister of Information and Culture says that the fight against corruption is not targeted at any individual but in Nigeria's interest.
Mr Lai Mohammed made the disclosure on Tuesday during a meeting with the Presidential Advisory Committee on Corruption in Abuja, the Federal Capital Territory.
The Minister noted that Nigerians have been the victims of corruption, stressing that this is why the present administration is determined to correct the mistakes of the past.
He observed that the amount of money taken away by corruption is enough to complete major projects across the country.
In his response, the Chairman of the committee, Professor Itse Sagay, urged the media to support the fight against corruption.