Health Minister Allays Zika Virus Fears In Nigeria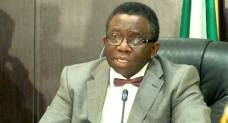 The Minister of Health has been giving an update on the outbreak of Lassa fever in different parts of the country, saying the disease has so far affected 20 states of the federation.
Professor Isaac Adewole addressed a press conference in the nation's capital, Abuja, on Thursday.
"You will all recall that on the 8th of January 2016, I briefed the nation on the current outbreak of Lassa fever that started in December 2015 and which has now affected 20 states of the federation.
"As of today, Nigeria has recorded 176 cases with 108 deaths, giving a case fatality rate of 61.4%.
"It is important that I inform the nation that this current outbreak is under control as evident by decline in new suspected cases, new laboratory confirmed cases and newly reported cases by week.
"Despite this achievement however, you will all agree with me that it will be too dangerous for us as a nation to go complacent at this stage," he said.
The Minister also dismissed fears about the possible outbreak of Zika virus in Nigeria, saying there is no need to worry.
"Although two African countries have reported Zika infection in the recent outbreak and in the past many others, causal relationship between Zika virus infection, birth defect and neurological syndromes have not been established in this continent.
"Nigerian scientist working in Western Nigeria in 1954 discovered Zika Virus in Nigeria. Further studies in the years 1975 to 1979 show that 40% of Nigerian adults and 25% of Nigerian children have antibodies to Zika Virus, meaning they are protected against this virus."