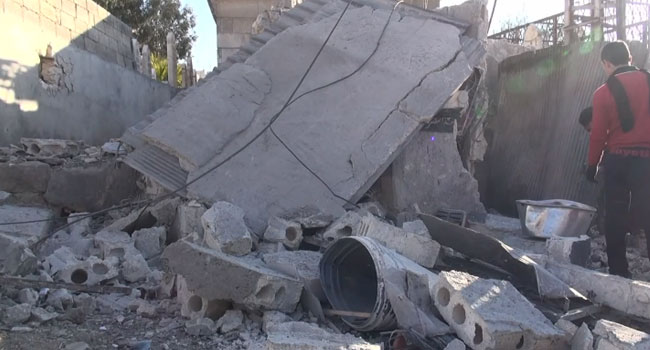 Major powers agreed on Friday to a cessation of hostilities in Syria set to begin in a week and to provide rapid humanitarian access to besieged Syrian towns.
They, however, failed to secure a complete ceasefire or an end to Russian bombing.
Following a marathon meeting in Munich aimed at resurrecting peace talks that collapsed last week, the powers, including the United States, Russia and more than a dozen other nations, reaffirmed their commitment to a political transition when conditions on the ground improved.
At a news conference, U.S. Secretary of State John Kerry acknowledged the Munich meeting produced commitments on paper only.
Reuters quoted him as saying that "what we need to see in the next few days are actions on the ground, in the field".
"Without a political transition, it is not possible to achieve peace," Mr Kerry stated.
Russian Foreign Minister, Sergei Lavrov, told the news conference that Russia would not stop air attacks in Syria, saying the cessation of hostilities did not apply to Islamic State and al Nusrah, which is affiliated with al Qaeda. Islamic State militants control large parts of Syria and Iraq.
"Our airspace forces will continue working against these organizations," he said.
The United States and European allies say few Russian strikes have targeted those groups, with the vast majority hitting Western-backed opposition groups seeking to topple the government of President Bashar al-Assad government.
Lavrov said peace talks should resume in Geneva as soon as possible and that all Syrian opposition groups should participate. He added that halting hostilities would be a difficult task.
But British Foreign Secretary, Philip Hammond, said ending fighting could only succeed if Russia stopped air strikes supporting Syrian government forces' advance against the opposition.
Diplomats cautioned that Russia had until now not demonstrated any interest in seeing Assad replaced and was pushing for a military victory.
Russian Prime, Minister Dmitry Medvedev, on Thursday raised the spectre of an interminable conflict or even a world war if powers failed to negotiate an end to five years of fighting in Syria, which has killed 250,000 people, caused a refugee crisis and empowered Islamic State militants.
Syria's main opposition group welcomed the plan by the world powers on Friday, but cautioned that the agreement must prove to be effective before it joins political talks with government representatives in Geneva.