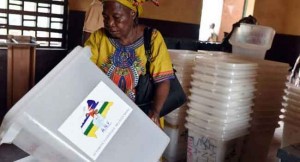 Voting has closed in the Central African Republic (CAR) where the people have voted to elect a new president in a run-off contest between two former prime ministers.
But final results in the poll – seen as a step towards restoring peace – are not expected for several weeks.
The seizure of power by a mainly Muslim rebel group in 2013 led to prolonged bloodshed.
Candidates, Faustin Touadera and Anicet Dologuele have pledged to restore security and boost the economy.
The citizens also voted for a new parliament following the annulment of a poll in December due to irregularities.
Mr Dologuele served under President Ange-Felix Patasse between 1999 and 2001, and Mr Touadera was Prime Minister under President Francois Bozize between 2008 and 2013.