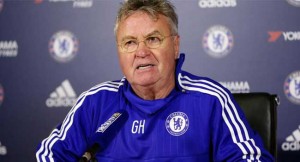 Guus Hiddink says his team are improving with every game and believes they have the quality to overcome Paris Saint-Germain and progress in the Champions League.
The absence of the skipper, John Terry, who has a minor problem with his hamstring and ligament, is a big blow, but Hiddink feels they are well equipped to cope.
"Well, it was not a decision made by me," said the Chelsea manager.
"He was having too much trouble to travel. We made a test this morning and it didn't work out well, so the decision was made to leave him at home. He was, himself, also convinced he could not be of worth to the team at the moment.
"He has a bit of a problem on his hamstring and on the tendon in that area. That's why we had the test this morning and we decided he would not participate. It will be difficult to say whether he can play this weekend. That's why we'd prefer him to keep undergoing treatment back at Cobham.
"We've practised with other people in at central defence, so it was not a surprise for the players that we had to make some changes. Of course, not having John is a bit of a setback. He's a leader. But I'm not the type of coach to moan and moan. We have to go on. The players who will replace him I have complete faith in them."
The current form of the team notwithstanding, Hiddink considers the Champions League a winnable trophy for Chelsea.
"It's about winning the Champions League, not looking just to get back into it next year," said Hiddink. "You have so many good teams, though, it's very difficult. It's beautiful to win a big, big cup.
"We are growing. Everyone knows the situation of Chelsea in recent months and weeks. We have, step by step, tried to establish more security in the team. To play with the quality of players we have.
"We are not quite where we'd like to be. We'd like to have an array of games where you've imposed the way you like to play. We've tried to do that step by step. But to give even more security, you need a number of games won where you've controlled and been dominant."
Paris Saint-Germain have been impressive domestically this season, but Hiddink feels the teams are evenly matched.
"It's 50-50," he said. "If you see where we are now and where PSG are now, they are building a very strong team and dominating the French league completely. They are 24 points ahead, and are focusing to get this Champions League. A big club has to win the Champions League.
"The league didn't start well for us this year, and we've had some recovery from December up to now, but we're desperate to get into the next round of the Champions League.
"It's a big test for us to get into the next round and I hope we can do something to swing it to our advantage."