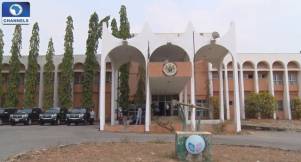 It has been a controversial impeachment of the Speaker of the Kogi State House of Assembly, as five lawmakers in a 20-member house sat on Tuesday and purportedly removed the Speaker, Honourable Momoh Jimoh.
The lawmakers also chose Umar Imam as the new Speaker of the House.
Friday Sanni, who briefed journalists about the impeachment, said the Speaker was impeached for not carrying other members of the House along in the affairs of the House.
He also claimed that since the new Governor, Yahaya Bello and the Speaker are both from the same senatorial district, the Speaker should vacate the seat.
Meanwhile, 15 members of the House who were seen at Hon. Jimoh's residence insist Hon. Jimoh remains the Speaker and that their signature was forged to perfect the impeachment.