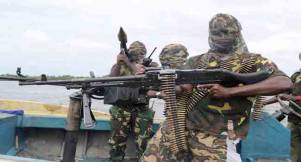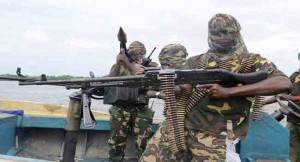 More militants from the Niger delta region of Nigeria and Arepo in the south-west have indicated interest to surrender their arms and embrace the amnesty programme.


The National Coordinator and Special Adviser to the President on Amnesty, Mr Paul Boro, told reporters about the militant's decision on Wednesday.
According to him, the amnesty programme has contributed to the relative peace that is now enjoyed in the Niger delta region, as over 30,000 youths from the region had been captured by the program since 2009.
He attributed the willingness of the militants to surrender their arms to the successes that the programme had recorded in the last six years.
"It is a programme that had to do with a case-load of 30,000 persons that were captured in 2009, but as we speak, we are happy that it is succeeding and exit strategy is in place," he stressed.
On the exit strategy Mr Boro said that over 3,000 ex-militants had been trained as entrepreneurs through the program.
"By that strategy, beneficiaries of this programmes have received business set-up and starter-packs.
"Since I took over, I have come up with pragmatic steps towards ensuring stability in Niger delta region.
"It is more so that you hear of some persons wanting to disarm.
"I am making a letter now to Arepo in Lagos to the higher appropriate authority to allow for disarmament at Arepo. There are also some elements that want to do same in Delta State, Bayelsa, Cross River and Akwa Ibom State," the National Coordinator and Special Adviser to the President on Amnesty explained.
According to him, some of those persons willing to disarm are displaced from Bakassi.
"Some are armed and willing to disarm as well."
Mr boro pointed out that it was a good thing for Nigeria generally that militants want to disarm, insisting that Nigeria should not be a country with arms all over.