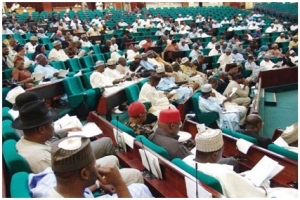 The House of Representatives in Nigeria has continued its sitting on budget defence at the National Assembly in Abuja.
Speaking at the opening of the budget defence session for federal judiciary on Thursday, the House Committee on Judiciary worry over the poor funding structure of the judiciary by the state governments.
The Chairman of the Judiciary Committee, Honourable Aminu Shagari, lamented that heads of the judiciary at the state level were always at the mercy of the state executives, which he said was an infraction on the Principle of Independence of the Judiciary.
At the sitting of the House Committee on Information, the acting Director General of the Nigerian Television Authority, Sola Atete, made a revenue projection of five billion Naira in the 2016 budget.
However, a member of the committee, Nicholas Ossai, insisted on carrying out a status inquiry to know the capacity of the station to generate such revenue.
Meanwhile, the issue of budget padding came up again during the sitting of the House Committee on Marine.
The Maritime Academy of Nigeria had written to the committee to request for amendments in the budgetary proposal, noting that some of the items were duplicated.
In his response, the House Committee Chairman on Marine, Honourable Umaru Mohammed, promised to look at the proposed amendments from the academy before proceeding with the consideration of the entire budget proposals.